In 1995, the staff at Concord Junior High had a desire to expand their teaching of philanthropy. Although building community and giving back was part of the lessons students learned, they wanted to find a way to help students connect with the real meaning of charity -- to give unselfishly to those in need.
Thus, a partnership with the Make A Wish Foundation was born. Make A Wish identifies children with life-threatening medical conditions, determines what it is they wish to do, and help make the child's dreams come true.
"Since 1995, Concord Junior High School has been granting wishes through fundraisers every other year (excluding 2021). No other junior high school -- or school in general -- in the nation has raised as much money or granted as many wishes as we have," said Heather Brunswick, Concord Junior High teacher and one of three event organizers. "Our goal is to continue this tradition in an effort to grant wishes of local children this year."
To date, Concord has donated more than $430,000 to the Make A Wish Foundation and granted wishes to dozens of local children who have life-threatening medical conditions. The 2021 event was canceled due to the Coronavirus pandemic.
The 2022 celebration and fundraising efforts kicked off Friday morning with a theme appropriate for the return of this much-anticipated event -- "Concord's Back!"
MEET JACK
This year's wish recipient is 11-year-old Jack Dorbin of Bristol.
In May of 2021, Jack was diagnosed with a brain tumor. Since then, he has undergone chemotherapy, radiation, and several medical procedures. Last month, an MRI revealed that the treatments were successful and Jack is doing well, although medication is still needed to control some of the side effects of his illness.
When the family was first contacted by the Make A Wish Foundation, mom, Shirley, said she wasn't sure he qualified.
"As time went on, I realized what he went through. The surgeries he went through. He had side effects from his chemo," she said. "...And then you start really realizing how seriously ill your child is -- and then we realized that yeah, Jack does qualify."
Jack's wish is to travel to California where he would like to visit an LA car experience to see cars of all types. He enjoys watching old movies with cars in them such as Back to the Future and Herbie the Lovebug and as part of his California experience, would like to visit Randy's Donuts, a bakery that has appeared in numerous television shows and films.
Jack attended Friday's event at Concord Junior High and joined event organizers on stage to wave to the students in the audience, who cheered for him and waved enthusiastically in response.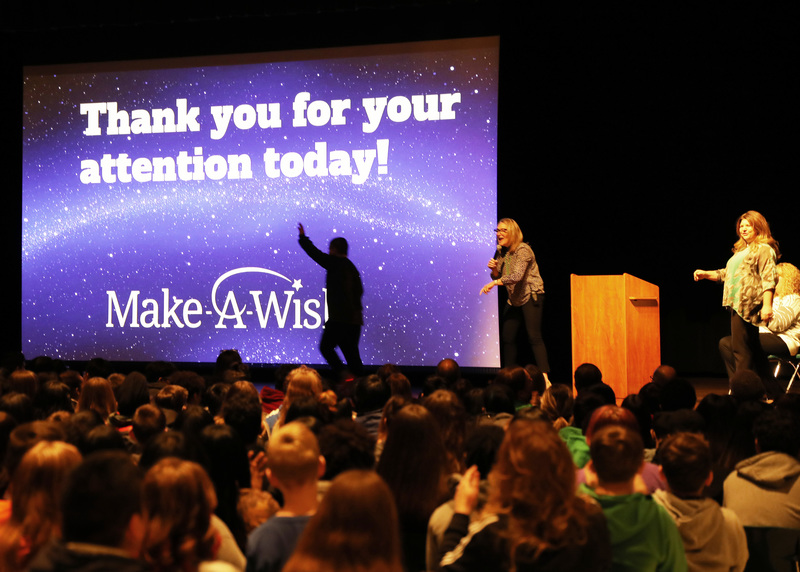 Seeing the students connect in that way was an important reminder of how meaningful this biennial event is for the community, explained event organizer Kristen Weatherholt.
"It's so important for these students to realize the impact they're capable of having on someone else. It's a reminder that this is bigger than any one of them," she said.
WISHES GRANTED
Lisa McKee, mother of a previous wish recipient Bobby McKee, on Friday described to students how Make A Wish gave her son the experience of a lifetime with a trip to California to meet the cast of the "OC." McKee's four children -- Ricky, Bobby, Ryan, and Brandy -- all graduated from Concord Community Schools.
"That wish, that gift, not only brought Bobby out of a dark place, but also impacted the rest of us in such a positive way," McKee said, "... It was a time that our family was able to cut loose and not have to worry about the illness that was impacting us. We had so much fun! It brought us together as a family and helped us remember that even through the tough times, we always have each other."
Over the next several weeks, students and staff will participate in a variety of fundraisers designed to get the community involved in raising funds for Make A Wish. From students washing cars for neighbors or selling artwork they created, to a junior high dance and walk for wishes event, there will be no shortage of ways they seek to raise money.
The organizers of this year's Make A Wish events would like to invite the community to participate in the 5K & Fun Run dubbed the "Race for Wishes" which will be held at Concord Junior High on Saturday, March 26. The race begins at 11:00 a.m. and will conclude with awards and food trucks for families to enjoy. To learn more, click here: https://runsignup.com/Race/IN/Elkhart/CJHSNEON5KFunRun