A new learning area will provide Concord High School students interested in the engineering, robotics, and construction trades fields a space to learn work readiness skills matching industry demands — and develop skills that will support their future careers.
Construction was recently completed on the Concord Engineering and Construction Center, a 10,400-square-foot building located on the west side of Concord High School in an area that was previously used for school bus parking. A community open house and ribbon cutting ceremony was held Monday, December 12.
The facility includes innovative engineering, robotics and construction trades spaces to support future-ready learning, support the local economy, and prepare students for success. This facility was designed in response to the needs of the local economy, including the desire for students to enter the workforce with industry-ready skills.
The project cost was approximately $3.9 million and was paid for through the sale of a one-year bond. This project will not raise taxes. Additionally, Concord Community Schools will lower the tax rate in 2023.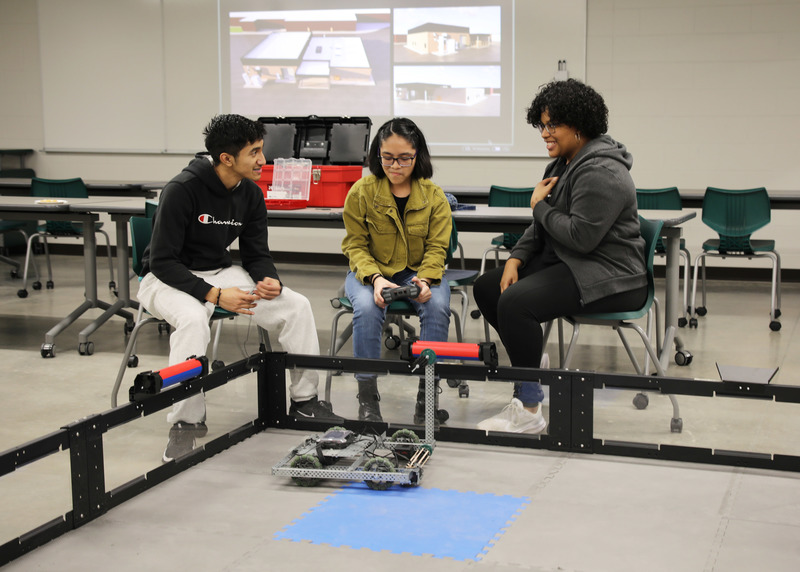 "We are proud to support this investment that will have a direct impact on our students and their ability to increase their industry-ready skills while still in high school," Superintendent Dan Funston said. "In conversations with local industry leaders, it is clear that having this facility in place to support student learning will set them on a path to success in whatever career path they choose."
In recent years, student interest in the high school's construction trades offerings has more than tripled, with more than 500 students enrolled in courses for the fall semester. This increased demand for course offerings has outgrown the existing facility.
"We are thrilled to have so many students interested in career fields that will directly benefit our local community," Concord High School Principal Seth Molnar said. "There is an excited buzz among our students and staff as we prepare to launch classes here in January, and we know that momentum will continue to grow as more students and families become aware of these incredible learning opportunities."
Courses to be offered in this space include: Civil engineering, architectural engineering, manufacturing, robotics, design and innovation, and construction trades.
Future plans include a competitive robotics program, additional student-designed projects available for purchase by the community, the growth of partnerships with Habitat for Humanity and other local organizations, and work-based learning placement for students with local contractors.
Students will begin utilizing the space in January 2023.
Concord would like to thank Weigand Construction and TMP Architecture for their partnership on this project.