The annual Concord Corporation Art Show was held Wednesday, April 27, and featured work from all grade levels.

First-place winners were recognized during the Concord School Board meeting on Monday, May 16.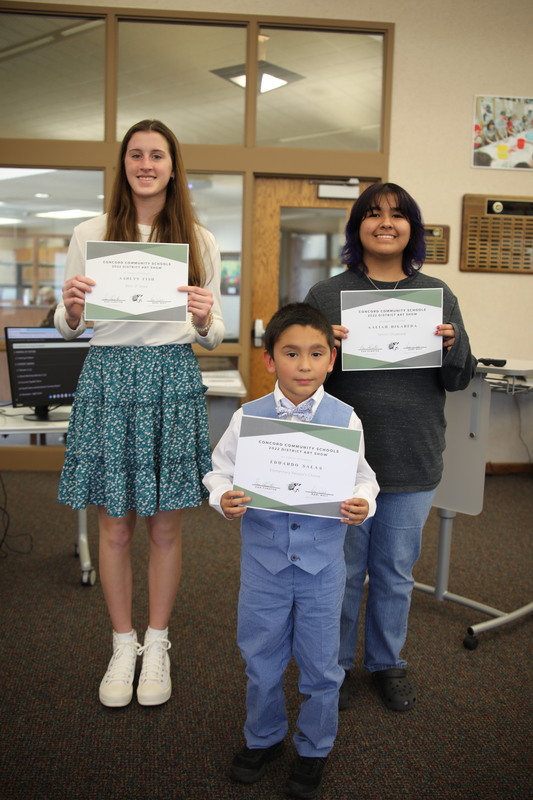 Aaliah Higareda - Senior Showcase
Alexandria Roberts - CHS People's Choice
Diego Campos - CJHS People's Choice
Nayeli Toletiono-Choong - CIS People's Choice
Eduardo Salas - Elementary People's Choice
Ashlyn Fish - Best of Show
Bennett Rabensteine - Best of Show
---
A list of junior high and high school winners can be found below.
CONCORD HIGH SCHOOL
Drawing
1st - Ashlyn Fish
2nd - Rowan Finnigan
3rd - Lucy Jewett

Painting
1st - Lucy Jewett
2nd - Sydney Olmstead
3rd - Hiromy Hernandez Moreira
Mixed Media
1st - Sofia Spradling
2nd - Lucy Jewett
3rd - Sofia Spradling
Digital Design
1st - Olivia Wachowicz
2nd - Sara Rheinheimer
3rd - Ashley Vega-Nava
Ceramics
1st - Francesca White
2nd - Savonnah Herring
3rd - Emi Leyva
Sculpture
1st - Alex Davis
2nd - Thomas Holley
3rd - Isla Williams
Photography
1st - Hallie Davis
2nd - Abigail Kridler
3rd - Jaylah Leggett
Jewelry
1st - Lauren Golden
2nd - Hiromy Hernandez Moreira
CONCORD JUNIOR HIGH
Black & White Drawing
1st - Diego Campos
2nd - Diego Campos
3rd - Estrella Villafuerte
Color Drawing
1st - Paola Garcia
2nd - Ivonne Martinez Mora
3rd - Addison Boley
Painting

1st - Sara Yoris Socorro
2nd - Meadow Iemma
3rd - Bostyn Holden
Mixed Media
1st - Bella Biggers
2nd - Naveah Jackson
3rd - Abigail Ferguson
Computer Graphics
1st - Meadow Iemma
2nd - Hannah Davis
3rd - Gia Sponseller
Ceramics
1st - Addison Boley
2nd - Jade Guzman
3rd - Janessa Bennett
Photography
1st - Jocelyn Jones-Perry
2nd - Kess Krecsmar
3rd - Madison Oiler
Printmaking

1st - Kayley Alvarez-Ortiz
2nd - Addison Worden
3rd - Layla Miller