Piles of candy filled several tables in the Concord East Side Elementary School cafeteria this week as a group of students worked diligently to sort them into piles and prepare them for delivery.
The annual candy-collecting project is one way that students at Concord East Side give back to their community — sending love all the way from Elkhart to the Middle East.
Liam Miller, a fourth-grader, described how quickly donations began to come in after they made the initial request.
"After Halloween, we put up a sign that said 'donate candy for the Army' and then started collecting," Miller said, explaining how a display case in the front of the school filled up seemingly overnight. "It's like a sweet home gift from home."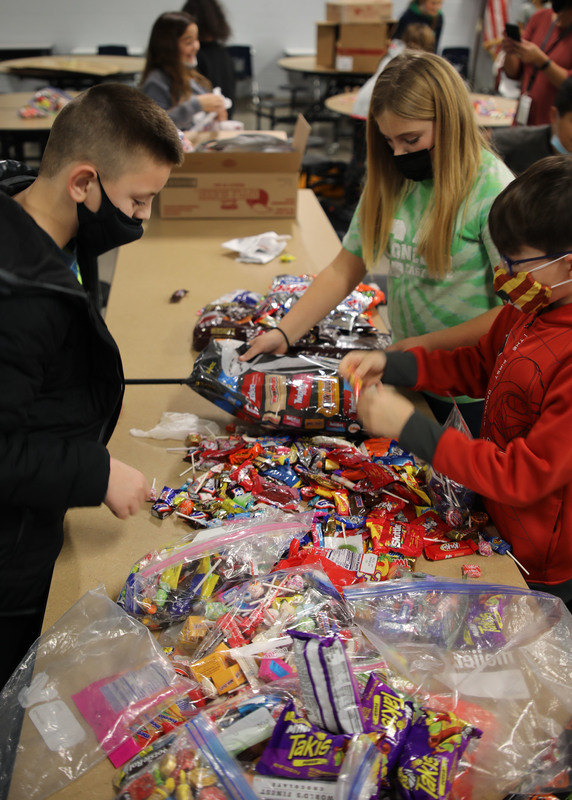 The project is an extension of the efforts of The HUGS Project of Elkhart, is a non-profit organization that sends care packages to troops in the Middle East.
A group of local volunteers packages and ships approximately 50 care packages each month. The packages include toiletries, snacks, reading materials, and a HUG — a cooling tie that can be worn around a serviceperson's neck in the desert heat.
More information: www.thehugsprojectofelkhart.co...
Concord East Side Elementary has been contributing to the program for several years. Students and staff collect leftover Halloween candy at the school and then sort and share it with troops.
On Monday, Nov. 15, East Side Leadership Team students gathered in the cafeteria after school to sort and weigh the candy before packing it up for shipment.
Because of the heat in the Middle East, chocolate had to be sorted into a separate pile to prevent melting during shipment, Miller explained.
Once finished sorting, the students weighed their donations and discovered they had 309 pounds!
Fourth-grader Ava Dutton said she enjoyed the project because it was a simple way to give back to the troops — while reminding them how much they are appreciated.
"Soldiers miss being home and this is basically a way that they can have a taste of home and know that we're back home supporting them," Dutton said.