Concord Intermediate and Ox Bow recognized by U.S. News & World Report
Concord Intermediate School and Concord Ox Bow Elementary were recently recognized by the U.S. News & World Report for outstanding academic performance in math and reading.
Concord staff and administrators celebrated together Monday morning at Concord Intermediate. A celebration with Ox Bow Elementary School staff is slated for Tuesday afternoon.
This marks the first year that U.S. News & World Report has included elementary and middle schools in its annual rankings.
"We are excited to have two of our schools recognized in this way by the U.S. News & World Report," Superintendent Dan Funston said. "This success is a great example of the importance of investing in great staff who can provide excellent instructional support for students and help our students achieve at high levels."
Concord Intermediate ranked in the top 17% of middle schools in the state (#97) and ranked as the second highest middle school in Elkhart County. Reading and math performance at CIS were noted as "well above expectations" with students outperforming schools across the state in both subjects.
Concord Ox Bow ranked in the top 23% of elementary schools in the state (#262), and was recognized for outperforming other Indiana elementary schools in reading and math performance. Ox Bow was ranked the fourth highest elementary school in Elkhart County.
"Student academic growth has soared at Concord since 2014. As a district, we're in the 93rd percentile of growth since then. These schools exemplify that growth," Funston said.
In addition to academics, schools were ranked by U.S. News & World Report in the context of socioeconomic demographics. In other words, top-ranked schools are all high achieving and have proven success in educating all of their students.
Travis Swanson, principal at Concord Intermediate School, thanked his staff during the presentation Monday for their efforts in helping all students achieve at high levels.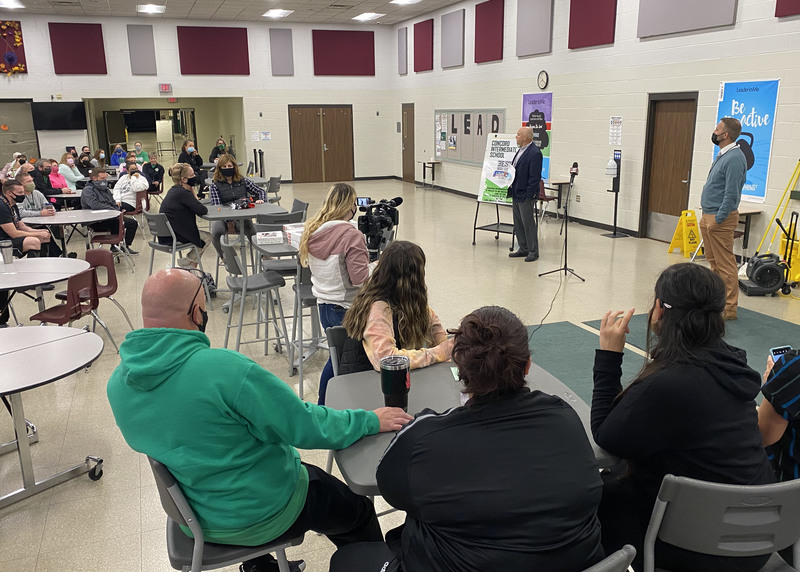 "We are proud and appreciative of the work being done here by our staff to support students in their learning and set high expectations for them," Swanson said. "Our staff are student-focused and extremely dedicated to kids and it's wonderful to see them recognized in this way."
Concord Community Schools is proud of the accomplishments of our students and grateful to our staff for supporting their success!