By BELLE BRUNNER
Concord High School Senior
If Izabelle "Izzy" Brandli were to paint a self portrait, her blonde hair would be purple and her face would be pink.
But when she painted her friend, Ana, however, her mellow personality was portrayed in shades of blue and purple.
And if she met someone with a particularly sunny demeanor, that person might find themselves portrayed in yellow or orange.
Colors are how this young artist makes sense of the world around her. She associates emotions and personality with every color in the rainbow. Her inspiration on these types of portraits comes from the artist Andy Warhol. Her twist on Warhol's creations is that she uses both the bright colors, and a very realistic portrait.
"It's like pop art but realistic, I think I'm finally understanding who I am as an artist," Izzy said after finding her own unique style.
DEVELOPING AS AN ARTIST
From a young age, Izzy was often found with art supplies in her hand.
"For my birthdays and things when I was younger my grandma would always get me art and painting supplies," Izzy said. "It was like here's some paint brushes, instead of what kids typically get like a soccer ball."
Even today, her mom has her artwork from third grade hung all over their house. Back when she was younger her artwork was mainly black and white.
"In 8th grade, I drew a lot of faces and I have a lot of old drawings made from pencils," she described. As she grew older, she began to layer different mediums, starting off with pencil, adding water colors, and then pen to top it off. This technique would be described as mixed media. Her favorite piece, featuring fairies in a forest, was created by using watercolors over pen with paint pens.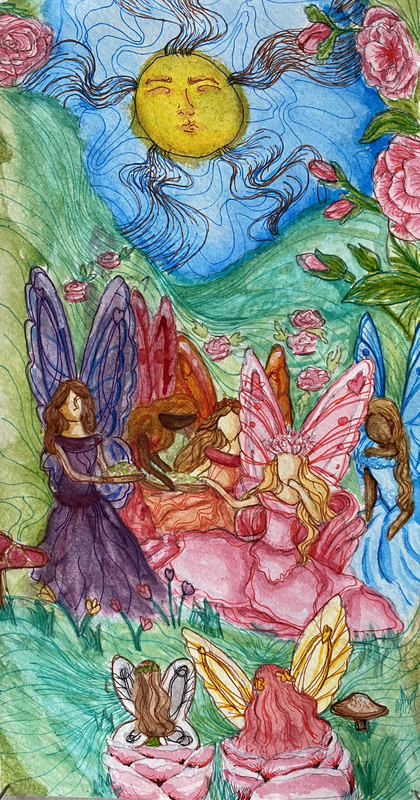 "Doing that piece made me jump into more of figuring out who I was as an artist like my style. It led me to where I am now, it was a creative jump," explained Izzy.
When Izzy graduates later this month, her future plans are to attend SAIC, School of the Art Institute of Chicago, where she'll receive a degree in fine arts. She later plans to teach art at a university.
CONCORD ART SHOW
Izzy's artwork has been featured in many art shows over the years. Her senior showcase will be virtual this year when the Concord Art Show occurs on Friday, May 14th.
CLICK HERE TO VIEW THE ART SHOW!
ABOUT THE AUTHOR: Belle Brunner is a senior at Concord High School, where she is actively involved in golf and swimming. She is serving as an intern for the spring semester and will be writing stories about students and staff at Concord Community Schools.