By BELLE BRUNNER
Concord High School Senior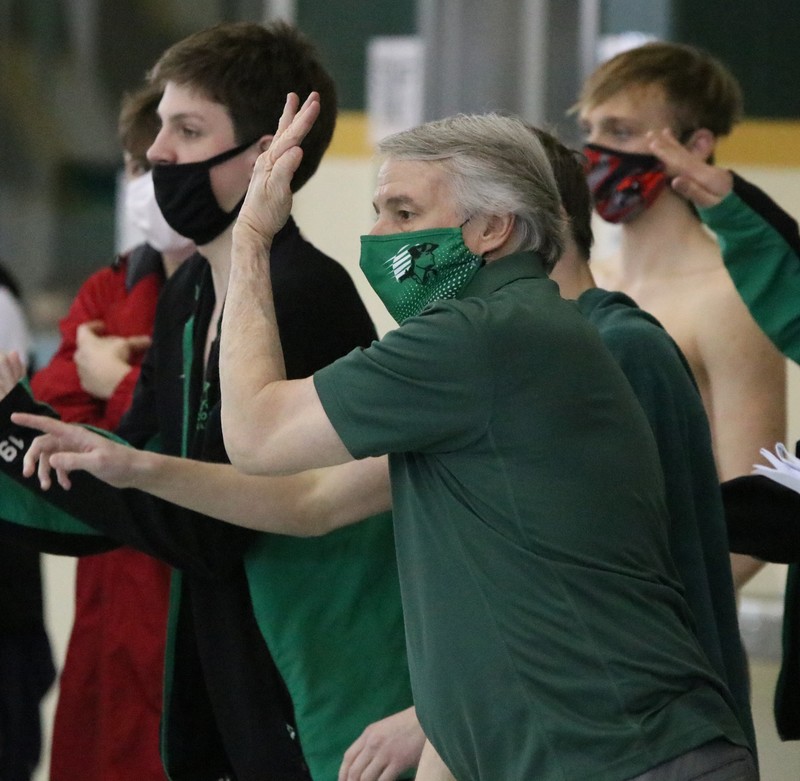 Picture this: You are a swimmer at Concord in the finals at sectionals. On the final stretch of the race, you take a quick breath and out of the corner of your eye, you see Coach Tom running up and down the pool deck yelling at you to kick and finish the race strong. You touch for first place, with Coach Tom throwing his hands up in the air in sheer excitement.
It's that spirit that makes Coach Tom Johnson so special to his team, and to the Concord community where he's dedicated more than 15 years of his life to serving.
"The time I get to spend on deck with athletes is the best part of the day everyday," he said.
Coach Tom has always loved the sport and had a passion for developing student athletes who are some of the strongest swimmers in Indiana.
In February, Coach Tom received the IHSAA Girls Swimming State Coach of the Year award, the highest honor in the state for his position.
It's one of the many awards he's received throughout a long, dedicated career, though Coach Tom is quick to share the spotlight with the program as a whole.
"I do want (the awards) because I see it not just in a personal manner, but it's really just a validation of our program. And our assistant coaches, and our athletes and all of the things we do well, the support we get from our parents, our administration. So to me it's recognizing the part that I play in leading that but also just the part that everybody plays to create a quality program," said Coach Tom.
LEARNING ABOUT COACH TOM
Coach Tom's passion for swimming developed from his own high school career when he was a student athlete at South Bend Riley High School, swimming for Coach Dave Dunlap.
"He was a great legendary high school coach in Indiana," Coach Tom said of his mentor. "He was a great leader, great motivator. I was not a great athlete. I was good, but I wasn't great at all. But I worked really hard."
During his senior season, they became state champions. Deciding to continue his swimming career, Coach Tom swam his freshman year at Notre Dame. While at Notre Dame, he started coaching on the side, and soon fell in love with it.
He graduated with a finance major, and later had a career in accounting and consulting with businesses. "I got out of college and went into a business my father owned. I ended up running it, and I did a lot of work with small businesses," said Johnson. However, coaching just kept coming back to him.
"I always knew that somehow I wanted to get to a point where I could just primarily coach, or only coach." And that dream soon came true just years later.
SUCCESS AT CONCORD
Coach Tom was coaching a club program in South Bend in 2005, when he learned about an opportunity to be head coach for Concord's club program. Two years later he began coaching the men's high school team, and two years after that, the women's team.
He has coached both high school teams to big victories since then.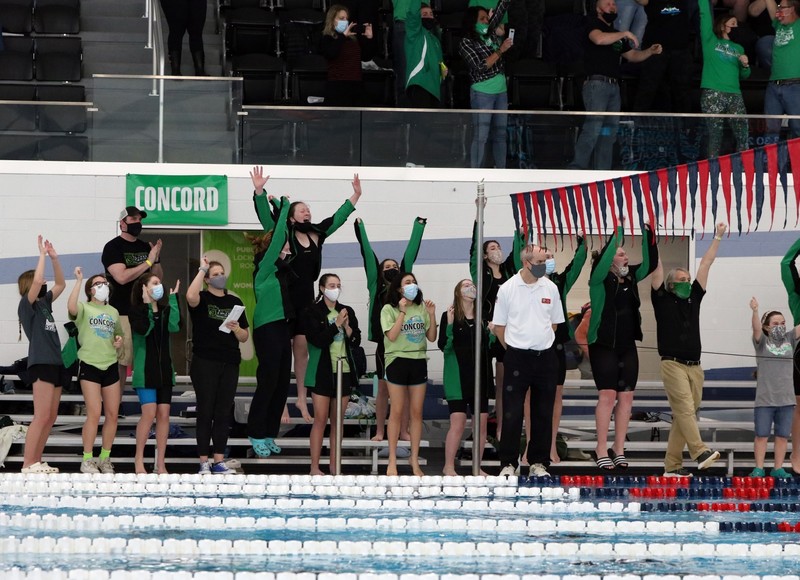 "His teams and athletes have been highly successful, with the boys team having recently won their third straight NLC Championship and 26 consecutive NLC dual meets, the longest such streak of any sport in school history. Members of both our boys and girls teams make appearances at the IHSAA State Finals each year under Coach Tom. He has been selected as Northern Lakes Conference Coach of the Year 11 times between the two genders," stated Concord High School Athletic Director Dave Preheim.
Flash forward to now, Coach Tom is the assistant aquatics director at Concord. In addition to coaching, he also coordinates swim lessons, lap swimming, and open swims for the community.
Over the years, Coach Tom has impacted swimmers from the past and present.
"It's really satisfying to hear from kids that we coach that are alums that are texting back, wishing us good luck," Coach Tom said. Just like the high school teams, the club team that Coach Tom runs is also very accomplished.
"To be successful in what we do, really in Indiana, most successful programs, the club program and the high school, are pretty closely entwined. … We try to think of it as one program. There's a period of the year that it's the high school season, but it's really the same coaches and the most of the same athletes outside of that season."
In describing why he loves to coach all the student athletes, Coach Tom stated, "We're just a small part of kids figuring out how to be good athletes, good students, and good people, but mostly good people."
ABOUT THE AUTHOR: Belle Brunner is a senior at Concord High School, where she is actively involved in golf and swimming. She is serving as an intern for the spring semester and will be writing stories about students and staff at Concord Community Schools.

SPECIAL THANKS TO: Austin Hough and The Goshen News for sharing photos of Coach Tom Johnson!