Everyone is encouraged to participate in Caleb's ARK (Acts of Random Kindness) on February 28th this year. Click here for a card describing Caleb's story, and how to get involved. Cards can also be found at the Concord Education Center.
By BELLE BRUNNER
Concord High School Senior
Every year, February 28th is a very important day in Caleb Gunawan's household. For one day out of the year, his family and friends make a special effort to bring kindness into the world. They call it ARK -- Acts of Random Kindness.
ARK began as an unimaginably heartbreaking day, as his dad, Martin, and mom, Chika, would later describe as "the worst day of our lives."
On February 28th, 2017 Caleb, then just four years old, was diagnosed with stage IV neuroblastoma, a cancer that affects the nervous system.
"That day is always monumental for us and will always be in our hearts," said Martin.
CALEB'S STORY
When Caleb was diagnosed with neuroblastoma in 2017, he had cancer all over his body from head to toe in the bones, with the tumor in his adrenal gland.
Neuroblastoma is a stage IV high risk type of cancer normally found in kids close to the age of five. Caleb was first diagnosed at age four, and began undergoing treatments. About a year and a half later, the doctors determined that he was clear for about nine months. In December 2018, the doctors identified there was more cancer in the back of his head, not in the brain, but in the skull. Caleb had a second relapse a year later in the same area.
"For four years he's been going through chemotherapy, immunotherapy, radiation, and surgeries. He's been through a lot of treatments, even painful ones. But so far we see he is so strong and brave," said Martin.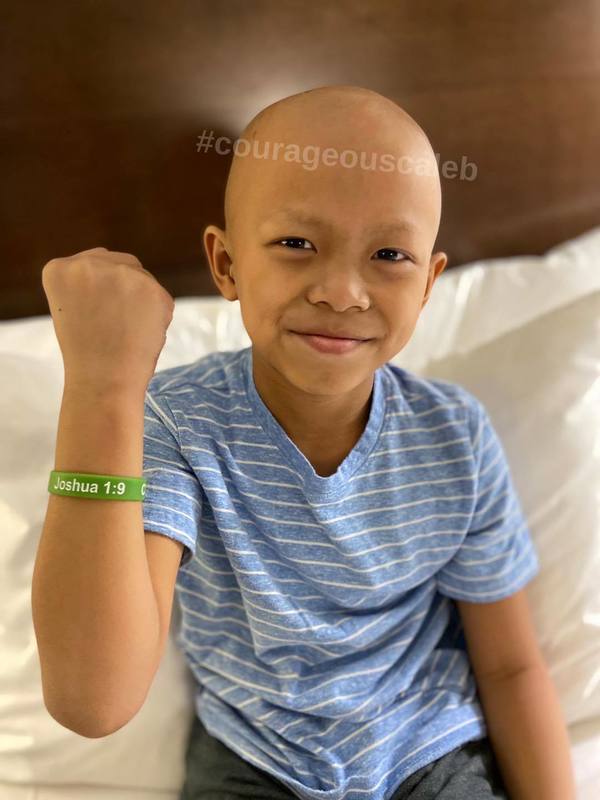 "Although his scan is still not NED (No Evidence of Disease), he is doing well and thriving, and is one happy boy. He is such a strong boy. His courage, patience, and positive attitude in enduring countless medical treatments never cease to amaze us," Chika said.
Now 8 years old, Caleb has a variety of interests.
"I like baking banana bread, playing a little basketball," Caleb said describing his hobbies. Caleb is participating in virtual school, and his work ethic, despite his health challenges, has been noted by many including his teacher.
"Despite his cancer treatments, he is going above and beyond and blowing everyone away with his incredible work ethic and tenacious spirit," said Lani Kieft, his third-grade teacher.
With their extended family back in Indonesia, Caleb's family found support and comfort from their friends from church and the school community. Their College Mennonite Church family would check up on them, provide meals, and help with Caleb's siblings Matthew and Maura. Their church family and Concord Ox Bow have both contributed financially through fundraisers as well.
As many in the community supported the family and Caleb's story became more well-known, his family wanted a way to give back and celebrate his victories.
HOW TO HELP
Wanting to stay positive, Caleb and his parents created ARK (Acts of Random Kindness) on the anniversary of his diagnosis.
"Instead of treating this as the worst day of our life, we kind of want to turn that around to the happiest day of our lives so we can still celebrate Caleb," stated his parents.
"We give donuts to police officers, gift cards to firemen, pay for people in line behind you in a drive through," said Caleb, on how he likes to spread kindness on this day.
When deciding what to call this day, they remembered Noah's story with the ark. "We made our own spin, this isn't Noah's Ark it's Caleb's Ark," stated Martin.
As he described how others can get involved in Caleb's ARK day, Martin said the random acts of kindness don't have to cost a lot of money, or even take much planning. They should be spontaneous and are just a way to show kindness to others.
Listed below are some kindness ideas provided by Caleb and his family.
Treat someone to a coffee or tea
Serve a meal at the local shelter / food pantry
Surprise a neighbor with freshly baked cookies or treats
Let someone go in front of you in line who only has a few items
Leave a gas gift card at a gas pump
Purchase extra dog or cat food and bring it to an animal shelter
Take donuts and coffee to your local fire station
Hide gift cards in your favorite books at a bookstore
As they participate in an act of kindness, Caleb's supporters are asked to include an informational card, letting the recipient know about ARK day and encouraging them to spread the word. "Contact information is on the card, if you have been touched by Caleb's ARK then please share," Martin said.
"It just comes to show you just never know, and a simple act of kindness can really touch someone. The world needs it, pandemic or not, we can always use more kindness."
GET INVOLVED
1. Print the flyer: https://bit.ly/3cYgUMG
2. Leave/attach/pass the flyer when you perform your act of random kindness.
3. Please share your story. Here are some ways you can share:
Message the Courageous Caleb Facebook page: www.facebook.com/courageouscalebg
Tag Caleb's family on Instagram @courageouscalebg
Use the hashtag #CalebsARK (make sure it is public)
Email calebsarkfeb28@gmail.com
Text 574-383-9045
ABOUT THE AUTHOR: Belle Brunner is a senior at Concord High School, where she is actively involved in golf and swimming. She is serving as an intern for the spring semester and will be writing stories about students and staff at Concord Community Schools.