By BELLE BRUNNER
Concord High School Senior
It would be unusual to show up to a Concord event and not see a member of the school board in attendance. From athletic events to graduation, and the science fair to a musical performance, students can always count on a board member to be there.
Watching students excel and compete is a rewarding part of an important role that these five individuals play in the community. Concord's school board consists of Kami Wait, Jennifer Davis, Kelly Barr, Jared Sponseller, and Tim Yoder. The importance of supporting students by showing up to cheer them on has been passed down from one board member to the next for generations.
"Students are working hard to make Concord shine so we owe it to the future of the student's kids to keep it shining so they want to come back," Yoder said.
Ask anyone at Concord, and they'll say that Yoder is one of the biggest supporters.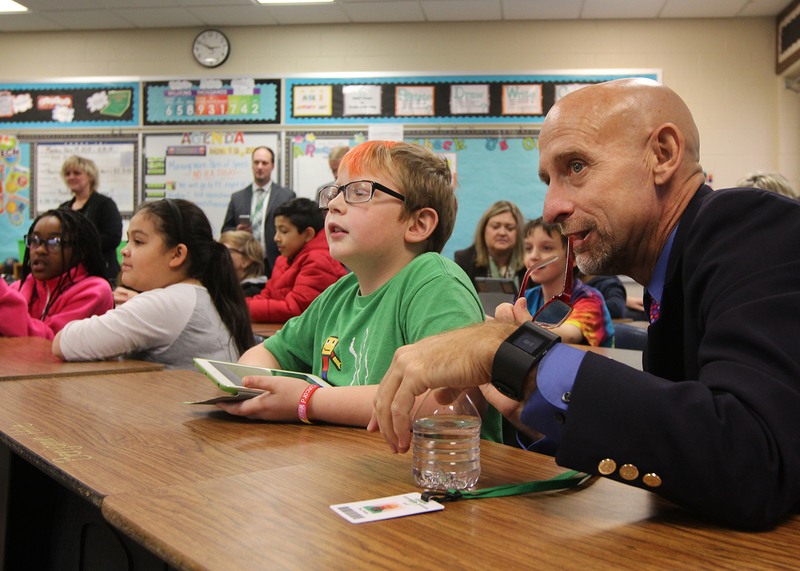 CONNECTING WITH CONCORD
Yoder's connection to Concord was his wife, Kathy. A Concord graduate herself, Kathy Goerlach insisted that her children become part of the Concord family. Their oldest child Katie was born with spina bifida/hydrocephalus and needed the caring support of Concord's special needs program. The family also wanted to make sure her younger brother, Jacob, attended the same school.
"She said we can go to any school in the county as long as it's Concord," Yoder said with a laugh.
Yoder became involved in PTO and the local chapter of a spina bifida support organization. Through those experiences, he started attending school board meetings.
He got to know longtime board member Randy Myers, who encouraged Yoder to eventually run for the position.
"Myers said we try to get to as many things as we possibly can because it's fun to watch students compete," Yoder said. "We as a board try to get to as much as we can."
In 2012, he ran for the District 2 seat and won.
The role of a school board member is to hire the superintendent, approve the budget, and set policies. Board members want to make Concord the best for all students.
Yoder said the way to do that is, "get the best superintendent, and support the staff all the way through. (We) have to make sure the budget is balanced and approved, and keep Concord what people expect. So the Concord you remember is the one that will be there for years and years."
A "FAMILY" OF SUPPORTERS
From a student perspective, when a student sees a board member supporting them and their team, they feel like what they're doing is special and people care about the outcome. It can push them to keep going if they are having a rough day because they know that they are representing Concord, and the whole entire Concord family is rooting for them.
Sometimes the board members even have to rearrange their public meeting schedule to come show support because, "If it's better for the students, then that's where we're going to make sure where we go," said Yoder. From all the support, everyone in the Concord community can agree that they love the family feeling at Concord.
Yoder added, "I'm sure every county school would say they're a family, but you really feel it here at Concord."
ABOUT THE AUTHOR: Belle Brunner is a senior at Concord High School, where she is actively involved in golf and swimming. She is serving as an intern for the spring semester and will be writing stories about students and staff at Concord Community Schools.